WONDERLAND 2017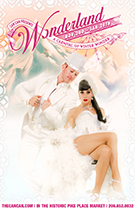 Acceptable ID's (Required for Entrance, & Beverage service):
Driver's License, Instruction Permit, or I.D. Card issued by any U.S. State, U.S. Territory and District of Columbia.
Driver's License, Instruction Permit, or I.D. Card issued by any Canadian Province
Valid Washington State Temporary Driver's License
U.S. Armed Forces I.D. Card (Encrypted signature acceptable)
Merchant Marine I.D. Card issued by the U.S. Coast Guard
Official Passport
Washington State Tribal Enrollment Card (No expiration date required)
Wonderland– Seattle's classic Winter show is back at Can Can Kitchen & Cabaret in the Historic Pike Place Market. Celebrate the holidays as our cast of A-list performers swing from the chandeliers into a new show full of classic beauty and flirtatious artistry. It'll be a glittering parade of nostalgia, exploding with dance, laughter, and all the cheer of yesteryear. This carnival of merriment will mesmerize audiences as soon as they enter Can Can's intimate theater turned whimsical winter chalet, making this a holiday entertainment spectacular to remember. In the kitchen and behind the bar you'll find a variety of food, wine, and spirit menus carefully crafted with local market-fresh winter ingredients, prepared to tantalize even the most refined palates. 'Tis the season to eat, drink, and be merry in a wintry WONDERLAND where theater and Cabaret meet. Consider this your invitation to the holiday soiree that you've always dreamed of!