FRENCH KISS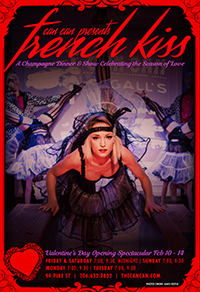 Acceptable ID's (Required for Entrance, & Beverage service):
Driver's License, Instruction Permit, or I.D. Card issued by any U.S. State, U.S. Territory and District of Columbia.
Driver's License, Instruction Permit, or I.D. Card issued by any Canadian Province
Valid Washington State Temporary Driver's License
U.S. Armed Forces I.D. Card (Encrypted signature acceptable)
Merchant Marine I.D. Card issued by the U.S. Coast Guard
Official Passport
Washington State Tribal Enrollment Card (No expiration date required)
We built French Kiss from the ground up with themes of romance, love and flirtation all the while maintaining the class and beauty Can Can shows are famous for. We are confident the New Orleans inspired menu additions, our highly gifted and talented cast, and the superbly romantic French Kiss is the best way to celebrate this season of love and romance.
The magic doesn't end with Valentine's day, French Kiss will continue through spring until the end of May. We will continue to offer our amazing everyday three-course dinner menu, masterfully crafted cocktails, and the best in Seattle entertainment. If you miss the special Valentine's weekend, don't worry we'll keep the romance alive for you!
Please read through all ticketing information before booking. All tickets are non-refundable, no exceptions, so it is important that you have read and understand all ticketing information. Please contact info@thecancan.com with any questions. If you're having trouble booking, please contact Ticket Refuge at 1-877-280-7831.
BOOKING INSTRUCTIONS & HOW WE SEAT:
Seating for this event is community or family style seating, you or a member of your party may be seated next to an individual that you do not know.
Whether you're a party if 2 or 60, all members of a party must use the same "party name" when booking their tickets. You'll find the area to enter this immediately following the payment screen. This lets the host know you are all one party, and we will do our best to seat you together. Failure to book with the same party name may result in your party's inability to sit together as one group.
Seating is pre-assigned, please do not e-mail or call with table/seat requests, we do not accept any requests for seating.

Can Can Kitchen and Cabaret opens at 5:00PM. Show seating begins 30 minutes prior to start time.