Donate Now!
Thank you for supporting us! We have the following options available as donation opportunities from our website. If none of the donation opportunities below include programs which you are interested in supporting, you may contact us to find out more donation opportunities by phone or email.
Mary's Place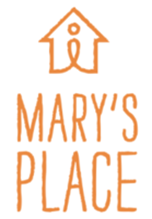 Since 1999, Mary's Place has helped hundreds of women and families move out of homelessness into more stable situations. We provide safe, inclusive shelter and services that support women, children and families on their journey out of homelessness. Across eight emergency family shelters in King County, we keep struggling families together, inside, and safe when they have no place else to go providing shelter, services, resources, community, and hope.
Meals, showers, and laundry facilities–children are connected with schools. In the evening, families in shelter eat dinner, do homework, socialize, and prepare for the week ahead. Each day, Housing Specialists work with families to address barriers and empower parents to build family stability, secure housing, and prepare for employment. Kids do homework, participate in fun and enriching activities, and go on outings and adventures in Kids Club.
Children with life threatening illnesses should not be living in cars and tents awaiting chemo or dialysis. Families who have lost everything in the struggle to get their child well have a place to receive care and support in shelter at Mary's Place Popsicle Place program.
The women's drop-in Day Center in downtown Seattle provides meals, showers, laundry, access to resources, safety and relationship to over a hundred women each day.
The support of the community keeps our doors open. The path out of homelessness can be long and challenging. Each person that finds housing is ultimately responsible for his or her accomplishment, but often a community of support, education, and advocacy has helped along the way.
Donate