Crimson and Clover: Seattle's world class dinner theatre featuring the best of dance, cabaret, and burlesque.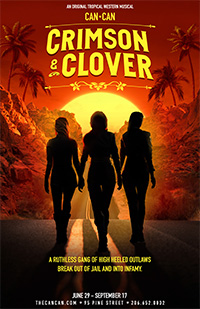 (JUNE 29 - SEPTEMBER 17)

Howdy, y'all! Haven't you heard? A gang of high-heeled bandits are on the run, stealin' hearts and robbin' folks blind. That's right – y'all better watch your backs - the El Dorado gang broke out of jail. With a history as mysterious as it is risqué, no one could have expected that these outlaws, infamously clad in fishnets and nail polish, would ever become the country's most-wanted. Shaking in your boots? Well, the story of El Dorado sure ain't no traveler's tale – this is the stuff legends are made of. Join us this summer in Can Can's lavish, velvet-drenched Theatre as we bring to life an original story basked in Americana and finished with award-winning music, choreography, costumes, multimedia visuals, and jaw-dropping stage contraptions. Crimson and Clover is the must-see tropical western musical of the summer.



Seating is assigned by the Guest Services team based on your selected ticket tier. This map is for your reference when selecting your tickets.