JUNK YARD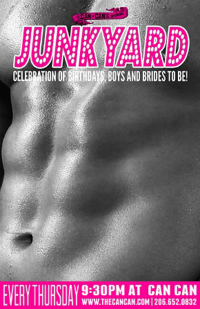 A night of celebration for birthdays, boys and brides to be.


Come see some junk!

Can Can's "Junk Yard" is a great night of celebration and revelry as Seattle's hottest boy toys strut their stuff live at Can Can for your viewing pleasure.

This Parisian-style nightspot at the historic Pike Place Market is a perfect setting for the bevy of deliciousness that ensues when the guys take the stage. The decidedly adult show is curated by Jonny Boy, Seattle's favorite male entertainer for seven years running. There's a full dinner and drink menu available, too.
Can Can's original all-male revue, Junk Yard, is a night of celebration for birthdays, boys, and brides-to-be as Seattle's hottest hunks strut their stuff for your viewing pleasure! Hosted by the city's favorite male entertainer Jonny Boy, true masculine magic happens when the guys take the stage.
TICKETING INFORMATION:

Please read through all ticketing information before booking. All tickets are non-refundable, no exceptions, so it is important that you have read and understand all ticketing information. Please contact info@thecancan.com with any questions. If you're having trouble booking, please contact Ticket Refuge at 1-877-280-7831.


BOOKING INSTRUCTIONS & HOW WE SEAT:

Seating for this event is community or family style seating, you or a member of your party may be seated next to an individual that you do not know.

Whether you're a party if 2 or 60, all members of a party must use the same "party name" when booking their tickets. You'll find the area to enter this immediately following the payment screen. This lets the host know you are all one party, and we will do our best to seat you together. Failure to book with the same party name may result in your party's inability to sit together as one group.

Seating is pre-assigned, please do not e-mail or call with table/seat requests, we do not accept any requests for seating.


Can Can Kitchen and Cabaret opens at 5:00PM. Show seating begins 30 minutes prior to start time.


SEPERATE CHECKS AND PAYMENT GUARANTEE:

Can Can Kitchen and Cabaret does not offer seperate checks. We require that each party pay with one credit card. We will ask you to present the card your party will be using to pay your bill upon seating. This card will be returned to you along with your bill at the end of the show. We apologize for any inconvenience.