ZOMBIE CHEERLEADERS FROM HELL! Featuring the Heavenly Spies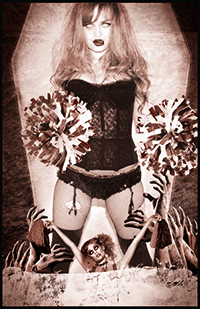 Find out what goes bump in the night with The Heavenly Spies this Halloween season in their 5th annual Can Can show "Zombie Cheerleaders from Hell!" A spooky-sexy evening of terrifying masks and pretty pasties, black cats and twerking booties, sweet transvestites and dancing cuties. Come....eat, drink and be scary....


The Heavenly Spies began in 2003 and are now celebrating their 12th year anniversary of sleuthing, slinking and sparkling on Seattle stages and beyond. They made their mark in the Neo-Burlesque movement in 2007 as the winners in Burlesque's most prestigious competition The Miss Exotic World Pageant and have continued to wow sold out audiences with their death defying high kicks and gravity defying hair.
TICKETING INFORMATION:

Please read through all ticketing information before booking. All tickets are non-refundable, no exceptions, so it is important that you have read and understand all ticketing information. Please contact info@thecancan.com with any questions. If you're having trouble booking, please contact Ticket Refuge at 1-877-280-7831.


BOOKING INSTRUCTIONS & HOW WE SEAT:

Seating for this event is community or family style seating, you or a member of your party may be seated next to an individual that you do not know.

Whether you're a party if 2 or 60, all members of a party must use the same "party name" when booking their tickets. You'll find the area to enter this immediately following the payment screen. This lets the host know you are all one party, and we will do our best to seat you together. Failure to book with the same party name may result in your party's inability to sit together as one group.

Seating is pre-assigned, please do not e-mail or call with table/seat requests, we do not accept any requests for seating.


Can Can Kitchen and Cabaret opens at 5:00PM. Show seating begins 30 minutes prior to start time.


SEPERATE CHECKS AND PAYMENT GUARANTEE:

Can Can Kitchen and Cabaret does not offer seperate checks. We require that each party pay with one credit card. We will ask you to present the card your party will be using to pay your bill upon seating. This card will be returned to you along with your bill at the end of the show. We apologize for any inconvenience.